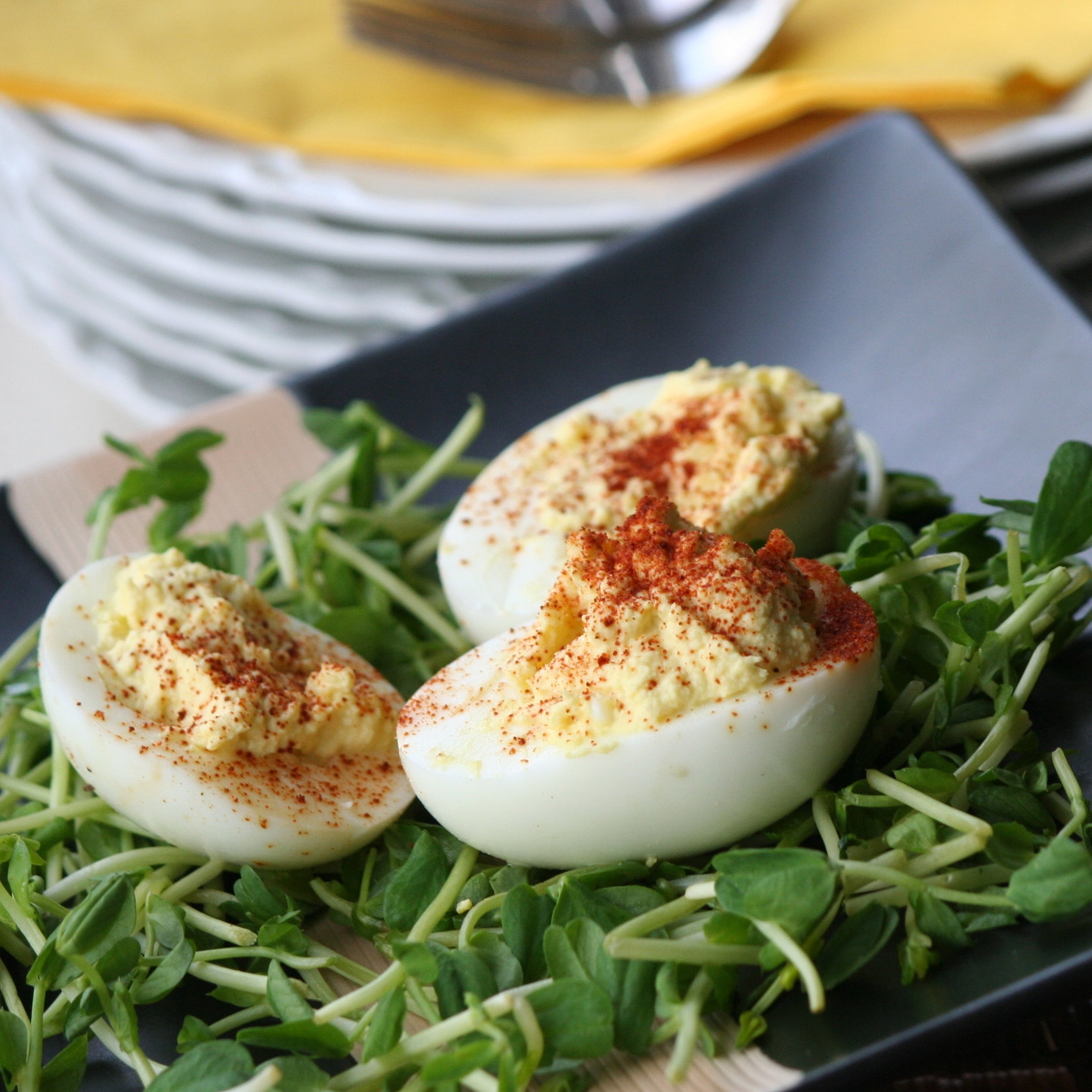 12 large hard-cooked eggs, see note
1/4 cup 0 fat plain Greek yogurt
1 tablespoon "pickle juice" from a jar of dill pickles
2 teaspoons Dijon-style prepared mustard, Creole mustard or other yellow mustard
1/4 teaspoon each: mustard powder, prepared horseradish, salt
Sweet or smoked paprika for garnish
Cut eggs in half lengthwise.; remove yolks. Press yolks using a hand grater, fine sieve, ricer, or mash yolks with a fork. Stir in Greek yogurt, pickle juice, prepared mustard, mustard powder, horseradish and salt, adding more yogurt if needed to reach desired consistency of a smooth, thick cookie dough. Spoon yolk mixture into egg white halves. Sprinkle with paprika. Chill, covered, until ready to serve. Makes about 2 dozen deviled eggs.
Note: To make hard-cooked eggs that slip out of the shell, place eggs in a large saucepan. Add enough water to cover eggs. Heat to a rolling boil over medium-high heat. Cover saucepan. Turn off heat. Let stand 20 minutes. Drain water from saucepan; run cold water over eggs. Drain again. Firmly shake hard-cooked eggs in saucepan to loosen shells. Most of the shells will have come off as a result of the vigorous shaking. Rub the remaining shells off with your fingers. To add even more flavor, use your imagination to top the filled eggs with your choice of ingredients such as: chopped olives, chopped roasted red peppers, capers, coarsely chopped blue cheese and pistachios.